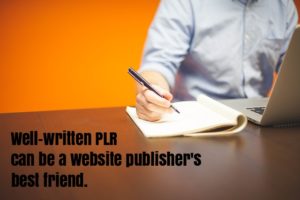 Alice Seba's ListMagnets.com always has good quality stuff.  Since you don't have a chance, as a PLR buyer to read the material before you buy it, it's always a good idea to return again and again to PLR writers whose quality you know.  And Alice's work is stuff you should try and then return to again.
If you're not familiar with her site, here are some of the topics you've got to choose from:
Business PLR Reports
365 Marketing Tips
Affiliate Marketing
Amazon FBA
Business Branding
Create Your Info Product
Digital Business
Facebook Live Tutorial Pack
Facebook Messaging Profits
Growing Your Audience with YouTube
Kindle Super Pack
Marketing Mistakes Top 10s
Marketing Tools and Comparison Charts
Marketing Top 10s
Podcast Interviews
Power of Video Ads
Product Launch Super Pack
Social Media Super Pack
Traffic Super Pack
Health Reports
12 Daily Habits
365 Health Tips
Healthy Fabulous You for 2017
Health Niche Ready-to-Go Newsletter
Self-Improvement Reports
Prioritize Your Life
Meditation for Focus and Success
Think Big
Self-Improvement Top 10s
365 Self-Improvement Tips
Journal Pack
Get Motivated & Achieve Your Goals
Any of that stuff look good to you?  I'll give you a link to the main page and you can poke around the site and see what you like:
I like the "365" products — 365 Marketing Tips, 365 Health Tips, and 365 Self-Improvement Tips.  What I love about them is that they're so flexible.  You can post each tip separately on social media or do a quickie blog post about the topic.  If you post them on social media, think about taking an appropriate image and adding the text over it.  Want a longer post?  Start with a tip, brainstorm, and develop it into a full article.
Need a new give-away or bonus?  Take the 365 tips document and use it as a free-standing product.
Can you spell "repurpose"?  Do all of those things — for each tip, create a social media image or simply post the text on social media, do a quickie blog post, develop the idea into a longer blog post, then brand the 365 tips document with your name and website and give it away as a lead magnet.
Don't you love PLR?
The link again:  List-Magnets-Flash-Sale
Enjoy!
Please follow and like us: