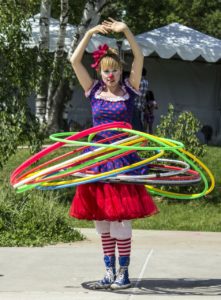 Remember when you were a kid and the things you loved to do most were exercise?  Of course, you never thought of it as exercise.  Instead, you thought of it as jumping rope, and hula hooping, and trampolining.  And you didn't do them because they burned calories or reduced belly fat. You did them because they were fun.
A secret that many adults have forgotten is:  those things are still exercise.  And they're still fun.
Jennifer Andersen from Health and Wellness PLR has a new PLR launch going on.  It's about all sorts of fun things to do.  And, oh, by the way, all those fun things to do are also great exercise.
The Front End
The front end offer is $7 for 20 articles and here's the list:
1. The Benefits of Kayaking For Fitness (440 words)
2. Tips For Kayaking Beginners (416 words)
3. 3 Hula Hoop Exercises to Try Out (470 words)
4. Why You Should Consider Hula Hooping For Fitness (412 words)
5. 3 Ways You Can Use a Jump Rope to Workout (468 words)
6. How to Use a Jump Rope in Your HIIT Routine (439 words)
7. Fun Workout Accessories For Traveling (386 words)
8. What to Look For in an Indoor Trampoline Park (459 words)
9. What is Aerial Yoga? (401 words)
10. Types of Aerial Fitness Routines (475 words)
11. Pool Noodle Water Workouts (394 words)
12. How to Burn the Most Calories in the Water (494 words)
13. 3 Excellent Indoor Trampolines (425 words)
14. Benefits of Working Out With a Hula Hoop (425 words)
15. What is Plyometrics? (402 words)
16. Tips For Starting Plyo Workouts (476 words)
17. Overview of Capoeira (464 words)
18. How Workout Cards Benefit Your Workouts (511 words)
19. What is the Doonya Workout All About? (446 words)
20. Pole Dancing For Fitness: Why You Should Give it a Try (438 words)
Here's my link: Fun Fitness PLR 
Did you notice about that list what I noticed?  There are three — count 'em! three! — different articles on hula hooping.
What To Do With Them
Honestly, there is so much you can do with this PLR.  You can treat all these articles as though they were about exercise.  So you can put them are your fitness, weight loss, diet, wellness, anti-aging, or health blogs. In fact, these articles might be especially helpful if your blog is about overweight kids or exercise for people who resist exercising.
On the other hand, you can treat these articles as though they were about fun things to do.  So you can put them on your blogs about parenting, home schooling, what to do with kids on rainy afternoons, what to do with kids who have ADHD, parent-child bonding, planning a staycation, innovative approaches to entertaining. . .  You know.  Blogs about fun things to do.
I'm sure you'll think of other slants for these articles, too.  For example, the articles about doonya and pole dancing work-outs would fit in nicely with an "improve your self-esteem by making yourself feel seductive" approach.
The OTO
There's an upsell, too.  It's $10 and includes a collection of 5-page reports and five additional articles.
The reports are:
No Equipment Workouts
Aerial Yoga 101
Fun Water Workouts
Outside Exercising with Kayaking
and the articles are:
Bosu Ball Moves For Killer Abs (436 words)
Overview of Using a Bosu Ball For Fitness (498 words)
Safety Tips For Using a Bosu Ball (424 words)
Indoor Trampoline Workouts (431 words)
How to Make the Most Out of Your Mini Trampoline (455 words)
I'm really fond of this package.  It's really original.  Not the same content you see over and over again.
My link again is here: Fun Fitness PLR 
Please follow and like us: