Do you have a food, kitchen, health, or lifestyle blog?  Or any other sort of site where you need new, original PLR recipes with beautiful food photos to illustrate them?  KitchenBloggers has what you're looking for — and it's on sale.
KitchenBloggers has a PLR membership program called Bite-Sized Bundles.  You get fresh, new content every month.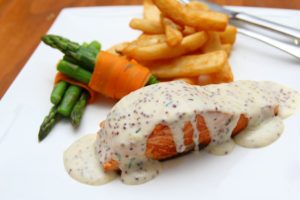 Bite-Sized Bundles
Trish, the Chief Cook and Content Creator for KitchenBloggers, develops the recipes, tests them in the kitchen, and takes the photos for the whole program.  The standard monthly pack includes eight new PLR recipes (two a week for each week of the month) with photos to go with each recipe, a total of 20 new photos, top 10 tips on cooking and kitchen hacks, and unannounced content upgrades.  Members get exclusive access to the new content for 60 days before it's released to non-members.
Here's my link:
KitchenBlogger's Bite-Sized Bundles
Cooking is a great niche for a blog.  You can take whatever slant you want for it — cooking for people who don't know how to cook, cooking for people who don't have time to cook, and of course there are scads of ways to modify recipes for various dietary restrictions.  So there are abundant ways to make a cooking blog yours and yours alone.
It's very lucrative.  You might be talking about recipes but you can also sell kitchen equipment — everything from measuring spoons to copper-bottomed pots and pans.  Sneak affiliate links into the recipes themselves to sell hard-to-find ingredients that you can get on the web.
Highlight a different cookbook every month or so, make one recipe from it each week,  and sell it on your site with your affiliate link.
Cooking is fun.  If you have a cooking blog, or love to cook and want to start a blog, KitchenBlogger's monthly program could be a real help to you.
And it's on sale for a limited time.  The monthly charge for this PLR membership program is usually $21.  But it's on sale until July 15, 2017, for $17.  Act now and you'll retain the low price for these PLR recipes and food photos for as long as you remain a member.
Here's that link again:
KitchenBlogger's Bite-Sized Bundles
Please follow and like us: