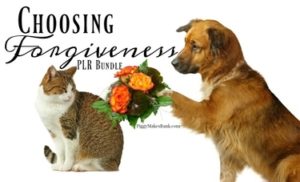 To be candid, I'm not sure how to categorize this PLR.  I called it "self-help PLR" in the title.  And I do think that forgiveness is a kind of self-help.
It's more than that, though.  For one thing, it's self-care.  Maintaining hard feelings over past events is harmful to your emotional well-being.  Forgiveness brings emotional healing and freedom.
Forgiveness is also wellness.  The emotional healing and freedom that it brings enhances your physical health as well as your emotional life.
Forgiveness is also religious and spiritual.  People who seek spiritual elevation often do a lot of work forgiving others and asking for forgiveness.
So there are a lot of directions that you can go with the topic of forgiveness and a lot of audiences you can target with content on the topic.
Today's PLR pack is the Choosing Forgiveness Challenge from Susanne and Tracy at Piggy Makes Bank.  There are a lot of pieces in this high quality pack.  Here's my link:
Choosing Forgiveness Challenge PLR
Self-Care, Wellness, Spiritual or Self-Help PLR?
Here's what you get in the package:
Short Report – Choosing Forgiveness:  How Forgiving Others Sets You Free.  This is a 4,350 word report that covers:
What is Forgiveness and Why Is It Important?
Why It's Bad to Hang on to the Hurt
How to Start Forgiving
Tips and Strategies to Help You Practice Forgiveness
Articles.  There's also a set of 10 articles.  The topics are:
1. What Exactly Is Forgiveness?
2. 3 Big Reasons Why Forgiveness Is Important
3. The Single Most Important Lesson You Need To Learn About Forgiveness
4. Forgiveness Is A Process
5. Why Is Forgiveness So Hard?
6. Forgiving Yourself – The Hardest Form Of Forgiveness
7. How Prayer, Meditation, and Gratefulness Can Help You Forgive
8. Holding On To A Grudge Mainly Hurts You
9. Practice Forgiveness And Set An Example For Your Loved Ones
10. How Practicing Forgiveness Will Make You A Happier Person
E-Mails.  The 10 e-mails correspond to the articles.
Forgiveness Journal/Workbook.   This is a 31-page journal for your readers to record their thoughts in as they make daily decisions to forgive.
Social Media Images.  A set of 10 social media images with quotes about forgiveness.
To Use This Package
Here's what I would do:
Post the social media images on Pinterest and Facebook.  Link them to a squeeze page that you create to collect e-mail addresses in exchange for the short report.
In the meantime, create a Facebook group and invite your new subscribers to join it.  Post a page of the journal every day to the group, encouraging your readers to share their thoughts in the comments.
Post an article to the group every three days.  On the same day, send out the corresponding e-mail to drive your subscribers back to the Facebook group.
People on emotional journeys like to share their experiences with others.  Capture this desire to create community among your subscribers. Whether you call this self-care, wellness, spiritual, or self-help PLR, this package can help you bring emotional healing to your readers.
This package is a steal at $37 on the Piggy Makes Bank site.
So go grab it now.  Here's my link again:
Choosing Forgiveness Challenge PLR
Please follow and like us: