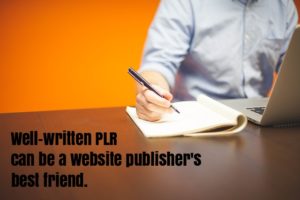 When you buy a PLR product, you get something that many other purchasers have bought.  You can use it exactly as you found it with no editing.  Many PLR users, though, will want to edit it in different ways.
When you edit PLR, you can make big changes or small ones.  First massage the text by adding your keywords.  Then revise any of the content that you think needs correcting, clarifying, or expanding upon.
Don't be stingy when it comes to expressing your delightful personality or your incisive wit.  Add your own stories and examples.  Elaborate on the points made or streamline them.
But most of all, develop your own slant on the material.  A slant is a treatment of your PLR that aims it toward your own target audience.  You can take PLR from two different niches and weave them together.  On the other hand, you can take a single PLR product and edit it so that it's aimed specifically to your niche.
I recently promoted a PLR package about healthy meal planning and preparation.  It's kind of obvious that you could use that content in the weight loss niche.
There are lots of other ways to look at it, though.  Use that PLR in the debt reduction or budgeting niche.  After all, careful meal planning saves money.
It's an excellent topic for working parents.  As a parent, you want to keep your kids healthy and teach them good eating habits.  You also have many demands on your time so having a workable system of meal planning and preparation will help you put food on the table.
You can use that content in an affiliate site that sells kitchen gadgets and appliances.  Take the made-for-you content and slant it to emphasize the equipment you need for each step of planning and prep.  Add your affiliate links, naturally.
The PLR on your site never has to look like anyone else's.  There are lots of ways to make it your own.  If you edit it to reflect your own voice and slant it toward your own audience, you'll turn your PLR into unique content.
Further Reading:
What's PLR and What Do I Do with It?
Find High Quality PLR Before You Buy – Get Free Samples
One of These Things Is Not Like the Others – Make Your PLR Unique
Please follow and like us: