If you have a website or need content for any other reason, PLR can be your best friend.
What is PLR?
PLR stands for private label rights.  That's a type of web content that carries a license that lets you treat the content as your own.  You can edit it however you like or use it just as it is.  You can put your own name on it, present it as your own work, and sell it without owing any further royalties after you've paid the purchase price.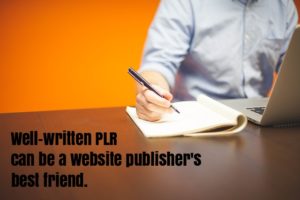 PLR is often written content.  It's most likely that you'll find article packs, e-books, and short reports.  But just about anything that requires a level of creativity can be sold as PLR.
You can find PLR graphics packages and photos.  PLR videos are becoming more and more common.  There are even PLR packages containing music to use as background for videos and podcasts.
Continue reading "What Is PLR and What Do I Do With It?"
Please follow and like us: