If you have a website or need content for any other reason, PLR can be your best friend.
What is PLR?
PLR stands for private label rights.  That's a type of web content that carries a license that lets you treat the content as your own.  You can edit it however you like or use it just as it is.  You can put your own name on it, present it as your own work, and sell it without owing any further royalties after you've paid the purchase price.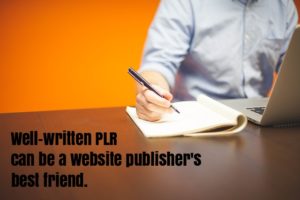 PLR is often written content.  It's most likely that you'll find article packs, e-books, and short reports.  But just about anything that requires a level of creativity can be sold as PLR.
You can find PLR graphics packages and photos.  PLR videos are becoming more and more common.  There are even PLR packages containing music to use as background for videos and podcasts.
Beyond that, some PLR packages include various kinds of content upgrades, like editable infographics, social media images, and autoresponder series.
PLR producers create products on just about any subject you can think of.  That means you can find PLR you can use no matter what niche you are in.  To find what you need, just Google the topic of your niche, "PLR," and the type of content that you're looking for, such as e-books or videos.
What can you do with PLR?
Once you've bought it, you can make whatever changes to it that you like.  Massage a dozen articles into a short report.  Break a short report up into a series of articles.  Weave two or three PLR e-books together to create one longer, richer text.
Use the articles as blog posts without making any changes.  Or take the ideas of the articles and re-write them entirely.  I often take a PLR article with a structure like "6 ways to do something."  I'll keep the framework of the six ways but I'll re-write the entire article in my own voice, with my own advice, and telling my own stories.
Well-written, high quality PLR is a valuable resource for website publishers.  No matter your niche or the purpose for your site, you need content.   With PLR content, you can post more quickly and easily, no matter how much or how little you edit it.
Many PLR producers launch new packages regularly.  Some of them write content in a wide range of topics while other stick to one or two niches.  Once you find a writer you like, keep up with them.  Visit their PLR store for new content periodically.  Stay on their lists to get word about new launches.  If your favorite writer has a membership program, consider joining it to get new PLR on a regular basis.
PLR packages are usually pretty reasonably priced, so it won't cost you a lot to experiment a little.  If you haven't used PLR before, try buying a package that looks promising and see if you like working with it.  Check out different writers.
Good PLR can be a real help for anyone with an online presence.  Try it out and see if you agree.
Want to find out more about PLR and what it will do for you?  Check out my free report.  You can download it now.  And did I mention it's free?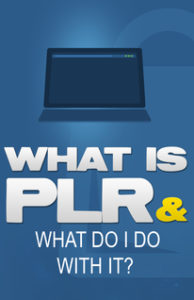 Please follow and like us: